The loss of a pet can be a terrible blow to the heart. These companions become family members and friends. They touch our lives in such a unique way, sometimes even surprising us with the impact they have.
It's no wonder that some pets throughout history have gained special recognition for their loyalty and love. Their memories live on in famous pet monuments that pay tribute to a lost friend. Much more than a pet, these animals were nothing short of extraordinary creatures that will never be forgotten. Here are 10 of the most famous pets in history:
1. Mrs. Chippy
A seafaring feline, Mrs. Chippy was the beloved cat of Harry McNeish, a carpenter on Ernest Shackleton's expedition to Antarctica. Politely considered a crew member, Mrs. Chippy (who was actually male) made the long, cold trip to the icy waters of Antarctica just a bit more pleasant for the crew.
After the ship set sail in 1914, those onboard had no idea they would be setting out on one of history's most remarkable adventures. Just days after World War I broke out, the crew of the Endurance set out for Antarctica despite stories of others failing to make the same journey just years before.
The Endurance managed to travel through a thousand miles of ice in just six weeks, but when the crew was just one day away from their destination, the ice crept in and froze the ship in place on Jan. 18, 1915. As the coldest season set in, the sailors prepared to spend the rest of the winter in the frozen tundra.
On Nov. 21, 1915, the ship sank into the icy waters below while the crew set up a nearby icy campsite. With little — meat except for penguins and seals — the sled dogs and Mrs. Chippy were shot so they would not suffer.
The loss of Mrs. Chippy was too much for Harry McNeish, however. He supposedly held a grudge against the captain long after the crew returned to safety.
In honor of his beloved companion, the New Zealand Antarctic Society built a statue in honor of the cat and placed it over McNeish's grave in 2004. The cat will now forever lounge as it did on McNeish's bed as they sailed along those icy shores.
2. Greyfriars Bobby
Looking for a little company on his shifts as a night watchman, John Gray adopted a Skye Terrier named Bobby who would follow him around the streets of Edinburgh in the early 1850s. But these two friends had their time cut short when Gray developed Tuberculosis and died in February 1858.
The loss of his owner was too much for little Bobby, and he was often found guarding Gray's gravesite in the Greyfriars Kirkyard. The gardener of the graveyard often tried to get Bobby to go elsewhere, but when it seemed the little dog would never leave, the gardener instead provided Bobby with some some shelter so he could continue to watch over his master's grave.
Crowds would often gather at the site to watch the sounding of the 1 o'clock gun, which signaled the only time of day that Bobby would leave his post to get his daily meal at a nearby coffee house. When a new law was passed in 1867 that would terminate any unlicensed dogs, Sir William Chambers, the Lord Provost of Edinburgh, paid for Bobby's license so he could remain in the graveyard.
For 14 years, Bobby was a loyal companion to his deceased master, always sitting by his gravesite. After Bobby's death in 1872, the people of the town wanted to pay tribute to one of the most famous pets in history. A dog monument was erected in Bobby's honor in November 1873. His headstone reads: "Greyfriars Bobby – died 14th January 1872 – aged 16 years – Let his loyalty and devotion be a lesson to us all."
3. Secretariat
The story of Secretariat is one that has been told in movies, story books and history lessons. As one of the most famous horses in history, it's no surprise that this American Thoroughbred won the hearts of people from all around the world.


It was in 1973 that Secretariat made history as the first U.S. horse to win the Triple Crown in 25 years. In 1999, he even made ESPN's list of top athletes of the 20th-century.
Over the course of his racing career, the famous horse had netted more than $1.3 million in winnings.
After his racing career ended, Secretariat lived an enjoyable retirement until age 19, when was euthanized after developing a painful hoof disease. He was memorialized in Kentucky Horse Park as a statue of one of the most famous horses in history.
4. Hodge
While little is known about Hodge, this rather famous cat has been memorialized in Gough Square, London as one of the famous felines belonging to Samuel Johnson. The best descriptions of Hodge are found in James Boswell's "Life of Johnson," which describes the cat as gobbling up fresh oysters that Johnson bought the famous pet.
While Hodge wasn't Johnson's only cat, he was the favorite. Johnson even bought valerian to ease Hodge's pain as he passed away. The bronze statue honoring Hodge was unveiled in 1997 by the Lord Mayor of the City of London. The black cat sits on top of a pile of oyster shells that cover Johnson's famous dictionary, and an inscription reads, "A very fine cat indeed," which Johnson was believed to have said about one of the most famous pets in history.
The sculptor supposedly crafted the statue to be at a height that allows visitors to wrap their arms around the animal to pose for pictures and caress it, much like the cat's old owner used to do.
5. Fido
While this pooch's name is popular for many dogs, not too many people know where it comes from. "Fido" means "faithful one" in Latin, and the most famous Fido is remembered in a dog monument in Italy. The original Fido, a two-year-old mutt, was found in a roadside ditch by a brick kiln worker who, along with his wife, nursed the dog back to health.
The brick kiln worker, named Carlo Soriani, often had the dog accompany him to the bus stop each morning when he went off to work. Fido would again meet his owner when the bus returned at the end of the day.
In 1943, an aerial bomb raid killed Soriani. After the remnants of the disaster were cleared away, everyone in the town seemed to return to their normal routines — along with Fido, who continued to visit the bus stop twice a day.
The ritual went on for 14 years. A statue was commissioned in Fido's honor, and both the dog and Soriani's widow attended the dedication ceremony in 1957. In 1958, while waiting at the bus stop, Fido passed away. He was buried next to his master. Fido's story of loyalty is one that makes him worthy of a famous pet monument.
6. Hamish McHamish
A modern day famous pet, Hamish McHamish won the hearts of people around the world after becoming popular on social media. However, he was most loved by the people of his hometown in St. Andrews, Scotland. Born in 1999, the ginger and white cat belonged to BBC producer Marianne Baird, but he soon took on an independent lifestyle, going where he pleased.
The University of St. Andrews became a popular hangout for Hamish, who could use his sweet demeanor to convince students to feed him. Hamish also frequented nearby businesses, often relying on the owners to give him snacks and to keep him comfortable. The nomadic creature soon became a neighborhood cat who was cared for by the entire community.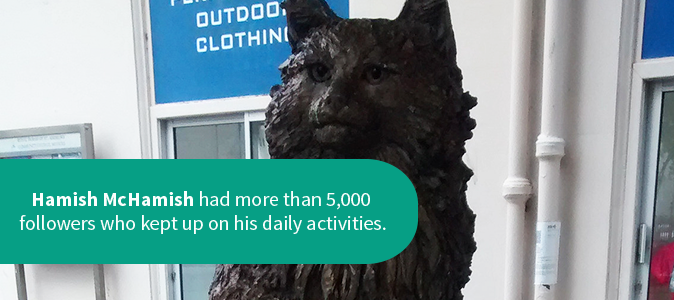 When his Facebook page reached popularity around the world, Hamish had more than 5,000 followers who kept up on his daily activities. Many tourists would visit the town just to see Hamish. Although he died in 2014 after battling a chest infection, Hamish's memory lives on as one of the most famous pets in history through a bronze statue that was unveiled just months before he passed away.
7. Pal
Arthur Glatfelter Jr. left York County, Pennsylvania to join the U.S. Marine Corps in 1942, but not without his German Shepherd, Pal. Practically growing up together, the young man and his dog were inseparable. The two boarded a Greyhound bus headed for North Carolina where Pal became one of 72 dogs to join the 3rd Marine War Dog Platoon.
While Glatfelter hoped to stay with his lifelong friend, Pal was sent on many of his own missions sniffing out the enemy from miles away. So much time had gone by that the young military man wondered if he'd ever see his dog again.
As fate would have it, while on a beach in the South Pacific, Glatfelter noticed a familiar, furry face. While Pal had been trained to respond only to his military handler, the famous pet couldn't help but run toward his owner. After four years of service, Glatfelter and Pal were discharged as sergeants of equal rank.
While the two grew old together back home in Pennsylvania, Pal eventually passed away while his owner's memories of the beloved dog lived on. In 2006, Pal was honored with a bronze statue that sits along the York County Heritage Rail Trail. The monument not only honors the dog for his service, but it also brings joy to the owner who loved him so.
8. Towser
Not many cats might be able to brag about catching 28,899 mice, but for Towser of Scotland, the record is inscribed on a memorial that honors the ferocious feline. From 1963 to 1987, the cat worked in Glenturrent Distillery as the official rodent catcher. She was so good at her job that The Guinness Book of World Records named Towser the "World's Greatest Mouser."
Her average three mice a day made her a famous pet worthy of a memorial that stands in her honor outside the distillery. Fairlie's Light Highland Liqueur, one of the creations of the distillery, also honored Towser with her paw prints and depiction on the bottle. Many other resident felines came on board after Towser, but none were known to have done so well at their given occupation.
9. Balto
One of the most famous pets in history, Balto was known for his courage. Balto was a Siberian husky who led 20 sled dogs on a treacherous journey through Alaska just to transport a life-saving medicine that would fight diphtheria. In January 1925, the disease was so deadly that doctors predicted it would sweep through the entire community of Nome, likely to leave a path of destruction as it harmed the children.
Just 10 minutes after Balto arrived in Nome with the life-saving medicine, a statue was erected in New York's Central Park. An underdog because he was neutered at a young age, not much was expected of Balto in comparison to the more masculine dogs.
Eventually, the dogs were sold after the famous trek, and they ended up on display as fascinating "oddities" people could pay a dime to see. George Kimble, a prize fighter from Cleveland, happened to have a look for himself one day and found that the dogs were in deplorable conditions. He was able to purchase them, and he brought them to his hometown in Ohio, where they received a celebratory welcome. Balto's remains can be viewed at the Cleveland Museum of Natural History, while his statue in Central Park remains a historical tribute to his courage and strength when he was needed most.
10. Hachiko
With a story told in books and Hollywood films, Hachiko is perhaps one of the most famous dogs known for its loyalty. The Akita dog was owned by Hidesaburo Ueno, a University of Tokyo professor who developed a rather famous routine with the animal. Hachiko followed his master to the Shibuya Station every morning and returned later in the day to walk him home.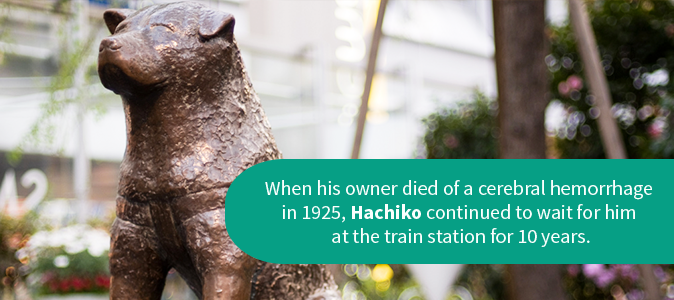 When the professor died of a cerebral hemorrhage in 1925, Hachiko continued to wait for his owner at the train station. The loyal pet continued his routine, waiting for his master, until March of 1935, when he was found dead on a side street — still waiting for his friend.
A bronze statue of the animal sits outside the station's east exit and has become a meeting place for those who wait for someone, much like Hachiko waited patiently for 10 years.
Memorializing a Pet
The death of a pet can be a terrible blow to any owner, whether the animal that captured your heart was a dog, cat, horse or other creature. Honoring your pet with a memorial can help the happy memories you shared with your animal companion live on.
At Agape Pet Services, we understand the emotional struggle you might be facing when it comes to honoring your deceased pet. There are several options you can consider to say 'thank you' to a pet that remained a loyal friend for so many years.
We can help you find a pet memorial that can provide you comfort and help you honor your pet. Even though our pets may no longer be with us, their loyalty and friendship will never be forgotten.